LÄUFER
Short Fiction, RED, 14', Germany, 2013
Written and directed by Carolina Hellsgård
Produced by Johanna Aust
Cinematographer: Kathrin Krottenthaler
Distribution: AG Kurzfilm, Nord Shorts

Funded by the nordmedia – Film- und Mediengesellschaft Niedersachsen/Bremen mbH and the cast&cut Short Film Grant
FFA, German Federal Film Board
with Artem Klevansky & Rebbeca Stein

Teaser: https://vimeo.com/49768250

Online Screener


***Nominated for the German Film Critics Prize 2013!***


Synopsis

Amal, a 13-year-old refugee from Lebanon, deals drugs in the
Hannover subway system. He lives an isolated life in an asylum home
outside the city. One day he meets a young German girl called Clara,
who might be his savior.


Director's Statement
The story of LÄUFER, is inspired by real events that happened in Berlin,
not far away from where I live. The police repeatedly arrested very young
drug dealers in the subway, sometimes they were not more than 12-13 years old.
Often they were asylum seekers from Lebanon, without any family in Germany.
If they were found to be above the age of 14, they were to be immediately deported.
I imagined how it must feel being one of the kids, perhaps just longing for a
normal teenage life, and made LÄUFER.
NEWS!
LÄUFER @ Zeit Online on the 24th of June 2015
http://www.zeit.de/index


Article in taz about the Nord Shorts Program and LÄUFER
http://www.taz.de/

LÄUFER @ Nord Shorts - Award-winning short films on tour
nordmedia – Preisgekrönte Kurzfilme auf Kinotour


LÄUFER is nominated for the German Film Critics Prize 2013
Award Cermony on the 10th of February 2014 @ the Berlinale International Film Festival
http://www.vdfk.de/

LÄUFER is nominated for "Startsladden" – the biggest short film award in Sweden!
Screening on the 26th of January, 2014, Göteborg International Film Festival
Best Swedish Short Film Competition
http://www.giff.se



Awards


LÄUFER is awarded a Special Jury Mention @ Fano International Film Festival, Italien, 2014


LÄUFER wins best short film "Youth Days" @ the exground filmfest, Wiesbaden 2013

LÄUFER wins 1st Prize at Mostra de Cinema de frontera, Spain
Award screening on the 22nd of June in Portbou, 2013
http://www.mostracinemafrontera.com/



FESTIVALS 2013 – 2015
27. FILMFEST DRESDEN
14 – 19 April, 2015
http://www.filmfest-dresden.de/



Cairo Video Festival, Egypt
"Present & Future / Reality & Fantasy"
11 March, 2015
http://www.medrar.org


Bangladesh International Short & Independent Film Festival, 2014
4 – 11 December, 2014
http://isiff-bd.org/festival/



Filmfest Osnabrück "Nord Shorts - Awardwinning Short Films"
Sunday 19th October at 11.30 am, Cinema-Arthouse
http://www.filmfest-osnabrueck.de/?portfolio=nord-shorts-preisgekronte-kurzfilme
Fano International Film Festival, Italien
21 – 24 Oktober, 2014
http://www.fanofilmfestival.it/?lang=en



Cairo Video Festival, Egypt
5th to 19th November 2014
http://www.medrar.org



Berwick Film & Media Arts Festival, UK
http://www.berwickfilm-artsfest.com/events-and-films/132/136/inntravel-short-film-awards#.U_HaarySzj9
Wednesday 17 - Sunday 21 September 2014



Young Nordics at Nordisk Panorama, Malmö, Sweden
19-24th September 2014
http://www.nordiskpanorama.com/



Buff Filmfestival, Malmö
10 – 15th of March, 2014
http://buff.se/



15. Landshuter Kurzfilmfestival, Germany
26 – 31st of March, 2014
http://www.landshuter-kurzfilmfestival.de



Vera Filmfestival Åland, Finland
12 – 16th of March, 2014
http://www.verafilmfestival.ax/sv/


Göteborg International Film Festival
Best Swedish Short "Startsladden"
http://www.giff.se



18th Berlin & Beyond Film Festival in San Francisco
Program "Sensational Seven" on Wednesday, January 15th 2014
http://www.goethe.de/ins/us/saf/prj/bby/enindex.htm?wt_sc=berlinbeyond
Coups de coeur allemands
mardi 26 novembre // 20h30
Goethe Institut
4bis, rue Clémence Isaure
31000 Toulouse
http://creative.arte.tv/fr/community/coups-de-coeur-allemands



exground filmfest, Wiesbaden
15–24th November
"Youth Days"
Screening:
Saturday 16th of November at 17.30 Caligari Filmbühne
http://www.exground.com/2013/programm/programm-kurze-vorfilme.html



11th Kalpanirjhar International Short Fiction Film Festival, India
Soirée Allemande
at Goethe-Institut/Max Mueller Bhavan kolkata
Tuesday, 5 November 2013, at 6:45
http://www.kalpanirjhar.com/current_festivals2013.html



Geneva International Film Festival, Festival Tous Ecrans
31st October to 7th November
http://www.tous-ecrans.com



Girona Filmfestival, Spain
5 – 7th of September
http://www.gironafilmfestival.com/



Klappe Auf! Kurzfilmfestival, Hamburg
25-27 October
http://www.klappe-auf.com/



Rencontres Cinématographiques Cerbère, France
3 – 6th of October
http://www.rencontrescerbere.org/



Festival Silhouette, Paris
August 31 – September 8
http://www.association-silhouette.com



Inventa un Film, Italy
July 31 – August 4
http://www.inventaunfilm.it/public/



EuroAsia Shorts - Short Films from Europe, Asia and the United States
China-Germany: Monday, June 10, 6:30 pm, Goethe-Institut Washington
http://www.germany.info/Vertretung/usa/en/__events/Wash/2013/06/10-EuroAsiaShorts.html



Berliner Kurzfilmrolle 2013 im Radioeins Freiluftkino Friedrichshain
14th of June 2013, 09.30 pm
http://www.freiluftkino-berlin.de/kinoinfo.php



achtung berlin - new berlin film award
April 17th – 24th, 2013
http://achtungberlin.de/



European Film Market / Berlinale 2013
--> more info


Clermont-Ferrand International Short Film Festival
@"Soirée Allemande • Coup de cœur - Le court métrage allemand"

FILM DATA
Main cast
Artem Klevansky (Lead)
Rebecca Stein (Lead)

Crew
Writer/Director/Editor: Carolina Hellsgård
DP: Kathrin Krottenthaler
1st A.C.: Simon Hamann
Sound recorder: Robert Fuhrmann
Production manager: Andrea Giesel
Assistant director: Christian Kelm
UPM: Julika Martin
Light: Carsten Brand, Florian Hoff
DIT: Andreas Melcher
Scenography: Nadine Meister
Costume design: Nadine Meister, Elena Neuthinger
Make-up: Henrike Huppertsberg
Production assistants: Helen Werner, Valerie Hellman
Production interns: Bente Ehrig (director's assistant), Magdalena Tucka (light)
Child supervision: Heidi Pettit
Costume design assistant: Anne Makarov
Music: Steffen Scholz
Sound designer: Christian Obermaier
Color correction: Chroma TV, Hamburg

Technical info: HD, 14 minutes
Produced by FLICKFILM GbR
Producer: Johanna Aust
Co-producer: Florian Gerstenberg / filmgestalten
With generous support by
Equipment sponsoring: Braunschweig University of Art

Funded by nordmedia Fonds and the cast&cut Short Film Grant
FFA, German Federal Film Board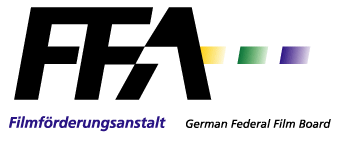 Links